As a result of being the most popular content management system in the world WordPress became a versatile tool in hands of WEB developers. More and more custom niche solutions are built with the help of this system sometimes even not intended to be used as a classical website. All themes that can be published within WordPress repositories are required to be compatible with strict quality regulations and certain limitations. In reply to online market demand popular websites like Themeforest, Templatemonster, Mojo-themes partly filled the niche of more customized WordPress solutions.
There are plenty of tutorials available online that cover WordPress theme update process in different ways:
Automatic upgrade – using automatic updater
Manual upgrade – removing old theme files and uploading new one
Third party upgrade plugin or software
The question is which way is the most correct one and which one to choose.
Automatic upgrade
Automatic upgrade is without a doubt the most easiest way to upgrade the theme. The only action you need to perform is to click update now link in case "Update Available" notification window showed up. See the image for reference. If you are a Themeforest or other marketplace theme owner you can skip this article and continue reading about Manual Upgrade option.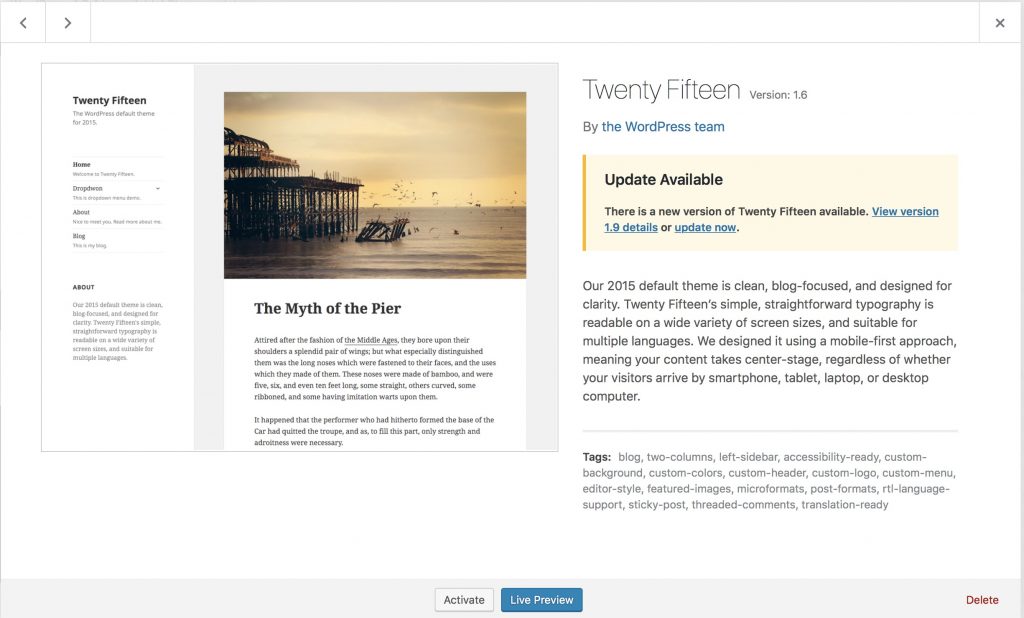 One thing to notice using this update method is that it automatically removes theme file customizations as well. Posts, Pages, Images, Custom post types and Customizer data will not be affected though only those files that were modified directly under themes root folder. While this may sound confusing you may refer to customizing theme core files using child theme article. If you are already using Child Theme or have not performed any modifications to physical files located under theme root folder you may safely use this method. In addition, automatic upgrade option can only work with theme published in centralized WordPress repository.
Manual upgrade
If you tried to upgrade your theme by just uploading it through Appearance > Themes > Add New > Upload Theme you probably experienced same error as is highlighted on the image below.

Even though you are uploading a higher version theme this error shows up due to the fact that WordPress can not upload theme within the directory with the same name. The fastest way to override this limitation is to simply remove old theme files or better rename it in order to have your theme files backed up. It is always a good practice to use Child Theme to override default theme structure. While storing customizations of theme core files under child theme you can safely update parent theme. If your theme comes with bundled plugin perform save actions from Plugins section of your admin: Plugins > Add New > Upload Plugin after old plugin files were removed or renamed.
Third party software upgrade
Hosting companies and theme developers may use their own tools for theme upgrade. The recommended way here is to contact them directly in order to receive more detailed information. Keeping your theme up to date ensure latest security patches and functionality are installed. If you have any additional questions please use the form below to contact us.
Was this article helpful?
Let us know if you liked the post. That's the only way we can improve.