Unlike other popular online freelance resources Kenzap.tech focuses exclusively on tech and IT related services to connect businesses and freelancers on long-term basis.
The marketplace is an open platform where two sides can collaborate the way they find it most convenient for them without any restrictions related to the use of internal billing or messaging tools.
Kenzap.tech covers these categories:
Websites
Mobile Applications
Desktop Applications
Programming & Software Development
IT Support & Outsource
Chatbots
Databases
Cloud & Hosting
AI & Machine Learning
Internet of Things
Before You Begin
In case you are searching for small freelance assignments and even part-time remote employment then Kenzap.tech is a place for you. Before you begin we recommend you define your top skills you are strong at and types of work you would like to offer fitting one of the categories mentioned above.
Do not try to copy other offers published on the marketplace but rather create an offer that has a competitive advantage and is unique. For example, instead of creating an offer I will create an Android mobile app for you one can write I will create an Android mobile app for you and publish it under your brand.
Getting Started
No that you know some basics it is time to create your first offer. Go to my account by clicking on the button below.
Then go to My Offers section and click on Create Offer button as shown on the image below.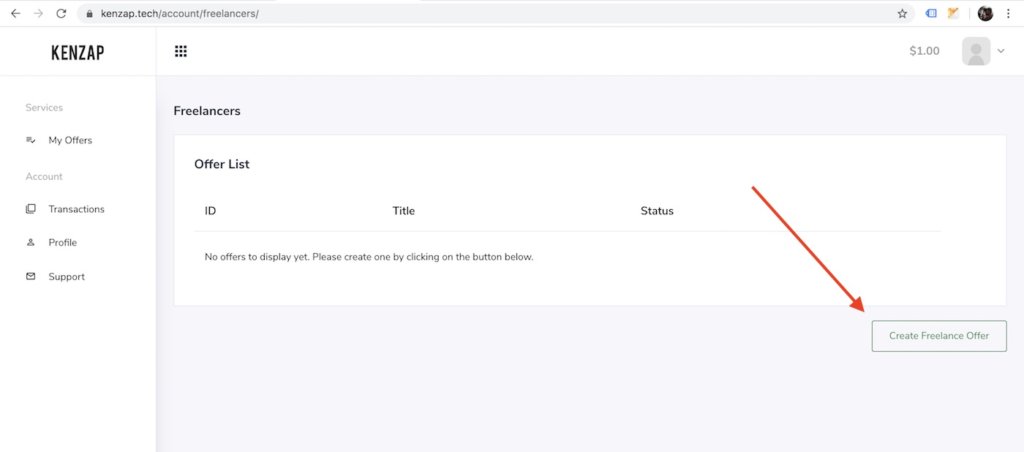 In the popup window provide Title and Short Description of your offer.
Create Offer
Now you can start entering additional information into the offer.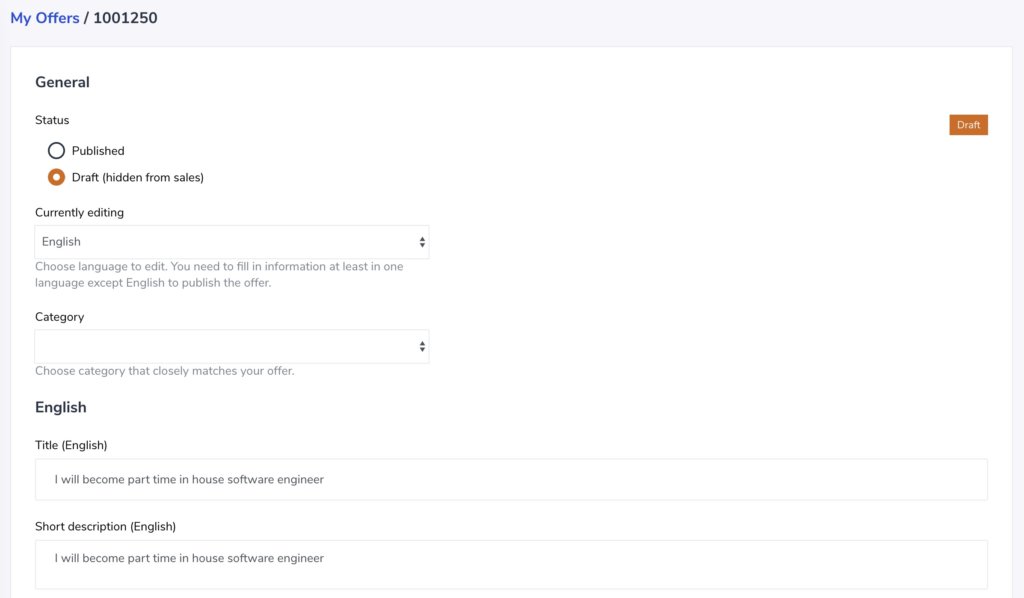 Your offers are automatically translated into multiple languages but it is recommended that you translate them yourself. This will ensure that your translations are more accurate. In addition to that you can variate offers depending on the locale you choose to provide better user experience for your target audience.
English offer listing is mandatory and you first need to fill in the information in English in order to get your offer published. Other languages are optional.
Fill in the following fields:
Title – show up everywhere where your offer is displayed including search engines.
Short description – short version of long description.
Long description – main area where you describe your offer in details.
Images – at least one image is required to publish the offer.
YouTube – videos can be better in delivering your message to the audience compared to images. Use video link to override image settings.
Features – features help differentiate price offers. For example, more expensive price offers can have more features included. Features are used under Price Offers section.
Price Offers – you can have one or multiple price offer variations. In case you have multiple price variations use features to differentiate the offer.
FAQ – frequently asked questions can help visitors convert into customers faster. Answering most demanding questions will also reduce customer communication time thus will save your time as well.
At the end of offer creation set status setting to Published in the top of the page and hit save button in the bottom. It takes around 24 hours for your oder to be translated and published under kenzap.tech marketplace.
Important! Offer might be suspended in case profile data is not filled in. Please refer to the next section.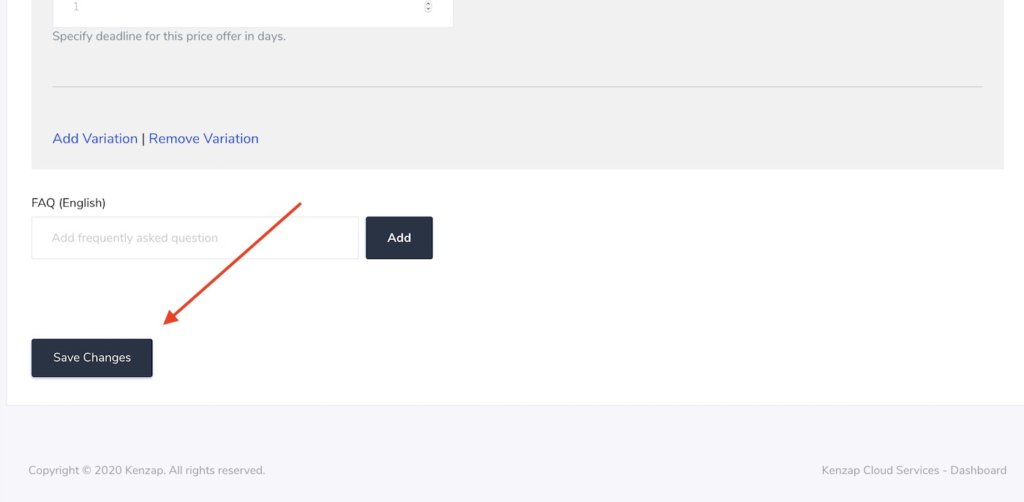 Your Profile
Do not forget to fill in your profile data accurately. Provide your profile image (avatar), bio, links to social networks, current location and contact details. You potential customers will reach you through WhatsApp, Telegram or Line messenger before placing an order. Your offer won't be published unless this information is provided.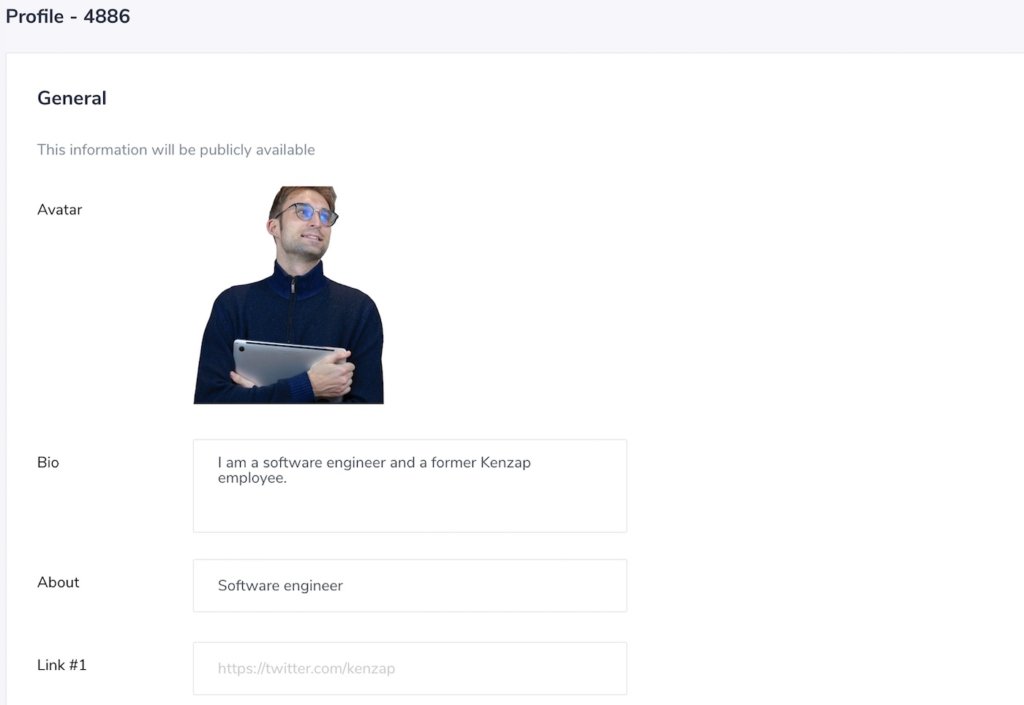 Was this article helpful?
Let us know if you liked the post. That's the only way we can improve.