Most of the settings related to Sayidan theme header and footer sections can be adjusted under WordPress admin Appearance > Customize menu.

For example, to change copyright and footer note texts go to Appearance > Customize > Site Identity panel. Please refer to the image below for more details.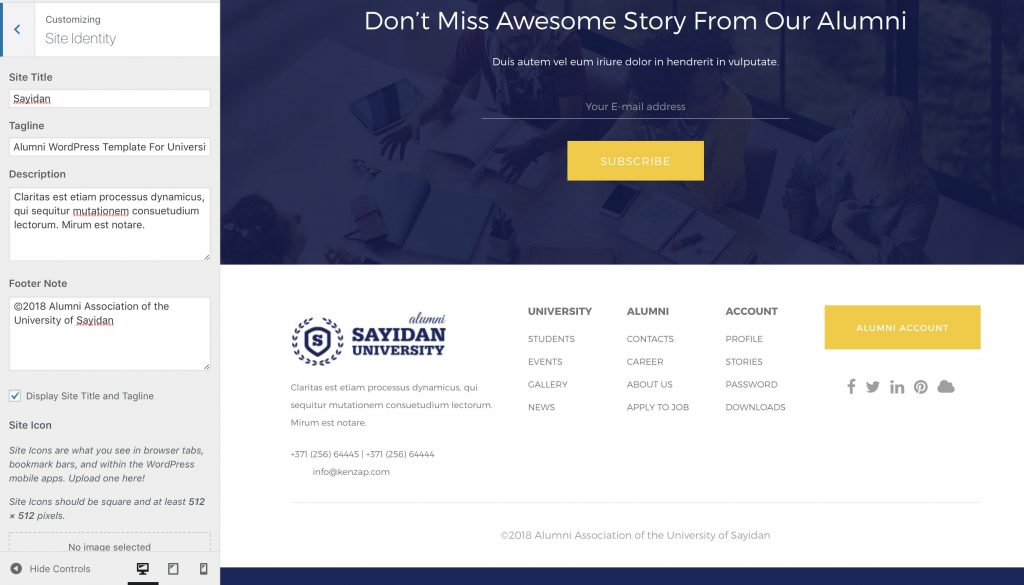 To change footer "Alumni Account" and header "Login" buttons go to Appearance > Customize > Navigation panel of your WordPress admin. If you want to completely remove the links just leave the fields blank and hit Publish button. To add/remove more social icon Appearance > Customize > Social Networks panel.
Sometimes a more advanced customization is required. In this case under your theme's root folder find one of the following files:
../wp-content/themes/sayidan/header.php for modifications related to header and top navigation bar.
../wp-content/themes/sayidan/footer.php for customization related to website footer.
If you have any additional questions please use the form below to contact us.
Was this article helpful?
Let us know if you liked the post. That's the only way we can improve.